Gabriela Rifkin, MD, JD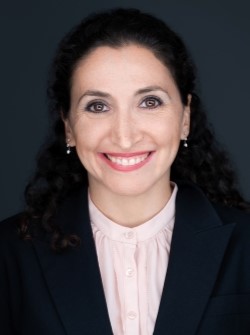 Gabriela Rifkin, M.D., J.D. is a board-certified comprehensive ophthalmologist offering medical and surgical eye care for a variety of conditions. She has an interest and expertise in cataract surgery, glaucoma, dry eye, macular degeneration, diabetic retinopathy, uveitis, conjunctivitis, and many other conditions and diseases affecting the eyes and vision. For patients with cataracts, she offers advanced techniques to help reduce patients' dependence on glasses following surgery, including laser cataract surgery and advanced technology intraocular lenses such as astigmatism-correcting lenses, multifocal, and extended depth of focus lenses.
Dr. Rifkin is a graduate of the University of Pennsylvania, where she earned her medical degree and her Juris Doctor degree. She completed her internship at MacNeal Hospital in the Chicagoland area, followed by a residency in ophthalmology at the University of Rochester in upstate New York.
Her research has been accepted for posters and presentations at meetings and has been published in prestigious ophthalmology journals, including Investigative Ophthalmology & Visual Science (IOVS).
She is an active member of the American Academy of Ophthalmology and is passionate about advocating for the needs of her patients. Dr. Rifkin is originally from Argentina and was raised in the Chicagoland area. As a native of Argentina, she is fluent in English and Spanish and can comfortably offer care in either language.
When she is not working, Dr. Rifkin enjoys spending time with her husband and children, cooking, and writing.
Education & Training
Residency: 2017-2020 – University of Rochester Medical Center, Rochester, NY, Dept. of Ophthalmology
Internship: 2016-2017 – MacNeal Hospital, Berywn, IL
Doctor of Medicine: 2012-2016—University of Pennsylvania School of Medicine, Philadelphia, PA
Juris Doctor: 2004-2007—University of Pennsylvania School of Law, Philadelphia, PA
Bachelor of Arts: 2001-2004—Emory University, Atlanta, GA
Licensure & Board Certification
Florida Medical License
American Board of Ophthalmology
---