Akintomide (Tommy) Apara, MD, PhD
Vitreoretinal Surgery, Surgical and Medical Retina & Diabetic Retinopathy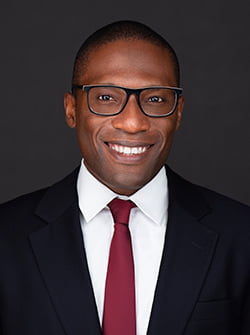 Dr. Akintomide (Tommy) Apara, is a board-certified ophthalmologist specializing in the medical and surgical treatment of retinal diseases. He attended Duke University where he received his B.S. in biology with a concentration in neuroscience. After college, he was the recipient of the prestigious Howard Hughes Medical Institute Exceptional Research Opportunities Program. He then received his M.D./Ph.D. degrees at the University of Miami Miller School of Medicine. Dr. Apara attended the University of California at San Diego (UCSD) where he completed his residency in ophthalmology at The Shiley Eye Institute. He completed his fellowship in vitreoretinal surgery at Louisiana State University School of Medicine in New Orleans, LA.
Dr. Apara's interests include neuroscience research and has spent time studying retinal ganglion cells. He has co-authored manuscripts published in the Journal of Immunology and the Journal of Neuroscience. He has presented his work at various meetings, including the Society for Neuroscience, FASEB Keystone conferences, and the HHMI Headquarters EXROP Scholars annual meetings. He is a member of the American Academy of Ophthalmology.
In his spare time, Dr. Apara enjoys spending time with his wife and 2 daughters, and their dog, Jax, a golden doodle. He was raised and lives in South Florida.
Education
Duke University

Durham, North Carolina
Bachelor of Science in Biology/Neuroscience

University of Miami

Miami, Florida
Doctor of Medicine
Ph.D. in Neuroscience
Post-Doctoral Training
Ophthalmology Residency

University of California San Diego
Shiley Eye Institute
San Diego, California

Fellowship: Vitreoretinal Surgery

Louisiana State University
LSU Eye Center, Department of Ophthalmology
New Orleans, Louisiana
Hospital Affiliate
Publications and Presentations
Tang X, Narayanan S, Peruzzi G, Apara A, Natarajan K, Margulies DH, Coligan JE, Borrego F. A single residue, arginine 65, is critical for the functional interaction of leukocyte-associated inhibitory receptor-1 with collagens. J Immunol 2009 May
Moore D, Apara A, Goldbery JL, Kruppel-Like Transcription Factors in the Nervous System: Novel players in neurite growth and axon regeneration. Mol Cell Neurosci 2011 Aug
Apara A, Goldberg JL, Molecular mechanisms of the suppression of axon regeneration by KLF transcription factors, Neural Regen Res. 2014 Aug
Apara A, Galvao J, Wang Y, Blackmore M, Trillo A, Iwao K, Brown DP Jr, Fernandes KA, Huang A, Nguyen T, Ashouri M, Zhang X, Shaw PX, Kunzevitzky NJ, Moore DL, Libby RT, Goldberg JL. KLF9 and JNK3 Interact to Suppress Axon Regeneration in the Adult CNS. J Neurosci. 2017 Oct 4;37(40):9632-9644. 2017 Sept
Galvao J, Iwao K, Apara A, Wang Y, Ashouri M, Shah TN, Blackmore M, Kunzevitzky NJ, Moore DL, Goldberg JL. The Krüppel-Like Factor Gene Target Dusp14 Regulates Axon Growth and Regeneration. Invest Ophthalmol Vis Sci. 2018 June.
Apara A, Arheart K, Chen K, Bartsch D, Freeman W. Heads-up digital 3D visualization system vs. standard optical microscopy: A controlled in-vitro study examining surgical preference in an academic eye center. Retina (Under Review, 03/2020).
Memberships and Appointments
Society for Neuroscience 2010 – 2015
American Academy of Ophthalmology 2016 – 2020
Young Ophthalmologists 2016 – 2020
Midyear Forum Academy Ambassador 2016 – 2019
American Board of Ophthalmology 2020 – Present
---