Albert Caruana, MD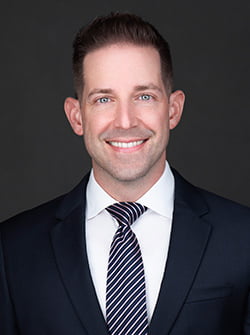 Dr. Albert G. Caruana Jr. is a board-certified ophthalmologist specializing in the medical and surgical diseases of the anterior segment of the eye. Dr. Caruana is fellowship trained in the area of corneal disease, cataract surgery, refractive surgery and external diseases of the eye.  
Dr. Caruana graduated Magna Cum Laude from Duke University with a Bachelors of Science in Biology. He completed his medical training at the University of Texas Southwestern Medical School in Dallas, Texas. During medical school, Dr. Caruana discovered his interest in ophthalmology while assisting with the treatment of severe eye injuries while rotating on the trauma service at Parkland Hospital in Dallas. Driven to pursue a career in ophthalmology, Dr. Caruana completed his ophthalmology residency at Maryland General Hospital in the University of Maryland Medical System in Baltimore. He served as chief resident in his final year of residency. His interest in cataract surgery and love for surgical procedures capable of restoring and improving sight led him to return to U.T. Southwestern Medical Center to complete a fellowship in Cornea, Refractive Surgery, and External Disease of the Eye under Dr. James McCulley.
Born and raised in South Florida, Dr. Caruana returned to his hometown after fellowship to practice at Cleveland Clinic Florida's Department of Ophthalmology in Weston, Florida. He built a successful practice at the Cleveland Clinic, where he served as Department Chair and Center Director of Ophthalmology. Dr. Caruana was honored to join the excellent team at Eye Surgery Associates in 2014.
As a member of Eye Surgery Associates, Dr. Caruana continues to offer compassionate and quality care for his patients. He specializes in cataract surgery, specialty lens implants (including the latest in multifocal, toric, and accommodative lenses), laser refractive surgery (LASIK/PRK), corneal surgery (including DSEK and DMEK), and external disease of the eye. He is very passionate about the technological advances in the field of ophthalmology that help patients enjoy better quality of life with their vision and more freedom from eyeglasses and contact lenses. Dr. Caruana is very pleased to offer surgical treatment for problems eye such as cataracts, myopia (near-sightedness), hyperopia (far-sightedness), presbyopia (age-related loss of near vision), or astigmatism. Dr. Caruana is a member of professional societies including the American Academy of Ophthalmology, the American Society of Cataract and Refractive Surgery, and the American College of Surgeons.
Dr. Caruana, himself a native of Davie/Cooper City, currently resides there and practices in both the Weston and Hollywood offices of Eye Surgery Associates. He enjoys fitness, cooking, travel, and technology.
Education
University of Texas Southwestern Medical School

1999-2003
Dallas, Texas
Doctor of Medicine

Duke University

1995-1999
Durham, North Carolina
B.S. in Biology
Post Doctoral Training
Fellowship: Cornea, External Disease, Refractive Surgery

2007-2008
University of Texas Southwestern Medical Center
Department of Ophthalmology
Dallas, Texas

Ophthalmology Residency

2004-2007
Friedenwald Eye Institute at Maryland General Hospital
University of Maryland Medical System
Baltimore, Maryland

Internal Medicine Internship

2003-2004
Presbyterian Hospital of Dallas
Dallas, Texas
Honors and Awards
Patient's Choice Award 2011-2013
Compassionate Doctor Recognition 2011-2012
Outstanding Resident Teacher Award 2004
Southwestern Medical Foundation Scholarship 1999-2003
Magna Cum Laude Graduate 1999 Duke University
Dean's List with Distinction 1998 Duke University
Dean's List 1995-1997 Duke University
Memberships and Appointments
Department Chair and Center Director of Ophthalmology

Cleveland Clinic Florida
2010-2014

Affiliate Assistant Professor: Charles E. Schmidt College of Medicine

Florida Atlantic University
2010-2014

American Academy of Ophthalmology
American Society of Cataract and Refractive Surgery
American College of Surgeons: Fellow since 2011
Certifications
Moria Microkeratomes
Hansatome
Intralase Femtosecond Laser
VISX Customvue laser
INTACS intracorneal segments
ReSTOR and Acrysof TORIC implant training
Crystalens/Trulign implant training
---